When you and your baby have a satisfying breastfeeding relationship, preparing for any separation can leave you with mixed feelings. This is regardless of whether you'll be away from your baby for just an hour or two, or longer. You may be concerned about whether your baby will take your expressed breastmilk in your absence and whether he will be happy being looked after by someone else.
A breastfeeding mother often finds it easier to keep her baby with her when at all possible, rather than making arrangements for separation. A little creative thinking may get around many obstacles. However, for situations when it's necessary to leave your baby with someone else, these tips from other mothers may help you and your baby.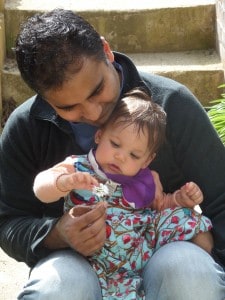 Your baby's care
Practical considerations
More than one feeding option
How much milk
Practicalities
Reverse cycle nursing
Solid foods
An evening out
Time can make a difference
Your baby still needs you
Your baby's care
Your baby may be distressed by being separated from you and that is normal. Being left with a stranger, however kind and caring that person may be, can be frightening for a young  child. So try to find a carer your baby already knows and loves, eg his other parent, carer or grandparent. If this isn't possible, choosing someone who has looked after breastfed babies before and who will respect your own mothering style is going to be best for you both. Allow as much time as possible for your baby to get to know his caregiver gradually in your presence before leaving him. Talk with whoever is to look after him about your baby's needs and your expectations for his care, and explain that you will be leaving your own milk for him.
If you are returning to work, choosing childcare near your workplace can often reduce the time you are away from your baby. It may allow you to go to breastfeed him during your lunch hour, or your baby to be brought to you. However, what's most important is to have a caregiver you and your baby are comfortable with, even if they are further from your workplace.
If your baby will be in a group setting, ask who will be your child's key worker so you can speak directly with them. When returning to work, arrange to leave your child with his carer for short introductory periods of time before leaving him for a whole day.
Practical considerations
Explain about your baby's preferences and how you would like him cared for. Consider:
Feeding patterns. Explain how his milk feeds should be offered, how often and how to recognise your baby is hungry.
Reminding the carer to offer only your milk unless you've given permission for your baby to have other foods and drinks.
Storage and preparation of your milk.
If your baby is over 6 months, what foods and drinks he is used to and whether he prefers to feed himself.
Your child's favourite toys and activities.
His individual character and how he approaches new situations.
Nap patterns and how he prefers to be settled to sleep.
It's a good idea to discuss what to do if your baby refuses to feed or is upset. A good carer will have his or her own suggestions too. Lots of physical contact and attention will help your baby while you're away. Familiar toys and feeding utensils can also help a baby feel comfortable.
More than one feeding option
Many breastfed babies never have bottles even in situations when mothers and babies are apart. Your baby can be offered your milk in several ways—you can opt for whichever he prefers. Detailed information on the feeding options outlined below—including ideas for when a baby is reluctant to take a bottle—are given on our page When Mum Can't Be There.
Babies under three months: very young babies can be fed breastmilk from a small feeding cup, a spoon, or a feeding syringe.
From three months: using either an open cup or a baby beaker with a simple spout (no valves) is an option for a baby from three months of age. A baby will often take drinks from these when his mother is present, which can reassure you that your baby will take milk while you are away. You can give your baby the chance to experiment with a spouted or open cup that he can hold himself.
Once your baby is six months old, you can offer water or occasionally very diluted juice in a cup to encourage him to drink. Sit at a table with him and have a drink yourself, so he can copy you. You could pretend to drink from his beaker, and emphasise the pleasure of drinking. The social interaction can be very important, compensating for the closeness of breastfeeding to help your baby accept the alternatives more readily.
Bottles: there are disadvantages to using bottles to feed very young breastfed babies. They may develop 'nipple confusion', as sucking at the breast requires a different technique from sucking at a bottle. Once breastfeeding is well established this is less likely to be a problem, though many babies resist or refuse to take a bottle. The longer you can wait to leave your baby, the easier it is to avoid bottles altogether.
How much milk?
It's very difficult to determine how much a breastfed baby will drink when separated from his mother. Much will depend on his age, how well fed he is beforehand and for how long he is left. There's evidence that fully breastfed babies require less milk than formula fed babies— as much as 25% fewer calories at four months. No one can predict how much milk an individual baby will want at a particular feed, although a regular caregiver will soon get a good idea of how much a baby usually takes. On average, breastfed babies take between 60–120 ml (2–4 oz) about 8 to 10 times per day. It's unlikely that a breastfed baby would consume 240 ml (8 oz) of breastmilk at one feed.
Practicalities
Plan to nurse your baby just before you leave and immediately upon your return. That way you needn't worry if he only takes small amounts whilst you are gone. It will also reduce the number of times you need to express whilst away and help you avoid engorgement or mastitis. If you are not able to breastfeed at the caregiver's prior to leaving your baby, nursing just before you leave home is an alternative. Some mothers nurse in the car outside their caregiver's.
Reverse cycle nursing
Many babies adapt to their mother's working hours, taking very little milk from their caregiver and then nursing very frequently when mother is around. This frequent nursing helps make up for a mother's absence and also helps maintain milk production. The less you are apart the easier it will be for your baby to compensate for missed feeds. You may also find sleeping close to your baby helps you cope more easily with night waking.
Taking time to concentrate on your baby's needs is the greatest help in maintaining your relationship, whatever a baby's reaction to separation. If your baby appears to reject you it is even more important that you give him as much of your time and attention as possible. It isn't really a rejection of you, but a normal reaction to the stress of separation. You may find that he becomes very clingy, and doesn't want you to leave or put him down. Encouraging better attachment to his caregiver—perhaps by spending time together with your baby and his caregiver— may help him feel more secure when you are away. Some mothers find it helpful to reduce their working hours temporarily.
Solid foods
Breastfed babies are often very good at moderating their own intake of foods and fluid, and not taking more then they need. A healthy baby is more likely to take whatever food and drink is available, than go hungry or thirsty. If your baby is taking solid foods, these will compensate if he refuses to take much expressed breastmilk. Many foods contain water, especially fruits. It's also possible to offer expressed milk mixed with some solid foods. Some babies prefer to take a drink with solids, so offering a drink with a snack may be a good option. If your baby has solids, it's important to let your carer know what he's used to. If you aren't providing food yourself, share information on what he can eat and whether to serve it as finger food, mashed or pureed. If your baby feeds himself, tell your caregiver, as many people expect to spoonfeed babies.
An evening out
If you're planning to leave your baby for an evening out, you may have more options than you think. Some mothers choose to meet with friends during the day. There may be a time of day when your baby is more content for you to be away. Others arrange a suitable  get together so they can take their babies along too.
Although drinking substantial amounts of alcohol regularly can have an impact on your milk supply and can lead to poor weight gain and motor development in your baby, research shows that an occasional beer or a glass of wine is not harmful for nursing babies. As alcohol inhibits oxytocin release, thus reducing milk letdown, nursing right after a couple of drinks can temporarily decrease the baby's milk intake, although studies show that the baby will make up for it by nursing more often once maternal alcohol levels are back to normal. If you are planning to drink while you're out, you may want to breastfeed your baby before your do so and then wait until your body has metabolised the alcohol (approximately 1 ounce in 3 hours) before nursing again. The less alcohol you drink, the shorter it will take for it be gone from your milk. Alternatively, you may want to consider having a non-alcoholic drink. You can  read more about alcohol and breastfeeding here.
If you drink heavily and need to express for comfort during or after, discard this milk. Consider whether the alcohol you drink will make you less responsive to your baby and less able to care for him. Remember that younger babies are more vulnerable to the effects of alcohol and that bedsharing is unsafe if anyone in the bed has drunk alcohol.
Time can make a difference
A few weeks can make a lot of difference in the life of a baby, especially to your baby's coordination, ability to sit up, and readiness for solid foods and other ways of taking drinks. If you've been trying unsuccessfully to introduce a bottle prior to a necessary separation, why not take a break? Try to relax and trust your plans will go well. If you feel stressed and preoccupied with the coming separation, your baby may react to this. There are always other feeding options that can ensure your baby's needs are met. Some mothers have found that exploring ways of delaying or avoiding separation from their babies has been possible and best for them both.
Your baby still needs you
Being able to breastfeed frequently when you are back together will help him adjust to the times when you are unavailable. Breastfeeding is so much more than just food; it's an opportunity for your baby to feel safe and secure. And it will also help protect him from any illnesses with which he comes into contact while you are apart. He really is a very lucky baby to have a mother who cares so much about his needs. By continuing to breastfeed you are giving him a sense of normality and the opportunity to be close to the most important person in his life just now: YOU.
Written by Karen Butler and mothers of La Leche League Great Britain. Photos courtesy of Abigail Nelson, Emily Gettins and Justine Fieth.
Further Reading
Expressing Your Milk
Nipple Confusion
Out & About With Your Breastfed Baby
Safer Sleep & the Breastfed Baby
Storing Your Milk
When a Mother is Unwell
When Mum Can't Be There
Workday Practicalities
Working & Breastfeeding
Alcohol & Breastfeeding
Books
The Womanly Art of Breastfeeding. LLLI. London: Pinter & Martin, 2010.
Nursing Mother Working Mother. Pryor, G and Huggins, C. Boston: Harvard, Common Press, 2007.
References
Breastfeeding Answers Made Simple. Mohrbacher, N. Amarillo, TX: Hale  Publishing, 2010.
Medications and Mother's Milk. Amarillo, TX: Hale Publishing, 2014.
This information is available to buy in printed form from our shop.
Copyright LLLGB 2016.