If you're expecting a baby and are continuing to breastfeed your older child, many questions may be going through your mind. Mothers  can breastfeed while pregnant; some go on to nurse both their new baby and their older child after the birth. This is known as 'tandem nursing'.
Breastfeeding during pregnancy is a special, unique relationship and one that may constantly evolve to take into account your changing needs and those of your older child. Breastfeeding can help you meet your child's needs more easily, especially if he is tired or unwell, and it continues to give him important nutritional and immunological benefits. However, breastfeeding whilst pregnant can often invoke intense feelings. Extra support at this time can be crucial and you may find talking things over at your local LLL meetings really helpful.
Is it safe?
Nutrition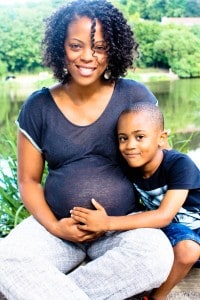 Morning sickness
Milk supply and colostrum
Managing when you are not enjoying it
Coping with questions and comments
Deciding to wean
Tandem feeding
The early days—what to expect
Separately or together?
Fast flow
Looking after yourself
A time for weaning
Further Reading
Is it safe?
Research tells us there's usually no reason why a mother shouldn't breastfeed while pregnant. Although breastfeeding may help a slow labour to progress, the amount of oxytocin normally released is not usually enough to cause the cervix to open before it is ready to do so.  Oxytocin is also released during sex, which is generally considered to be safe during pregnancy.  If you are expecting multiples or considered to be at risk for miscarriage/early delivery you may be advised to stop breastfeeding. You could discuss this with a breastfeeding-friendly caregiver.
Nutrition
You won't be depriving your unborn baby of nutrients by continuing to breastfeed so long as you eat reasonably well. Getting plenty of rest and eating nutrient dense food will help you stay well-nourished and healthy.
The UK Department of Health recommends that all pregnant women take a vitamin D and folic acid supplement (often taken in the form of the Healthy Start vitamins).
Calcium needs during pregnancy and the first six months of breastfeeding it is normal to experience a gradual loss of bone density. Even if breastfeeding continues, recovery of bone mineral content (BMC) starts from around 3–6 months and is generally complete by about 12 months after birth. If a mother has breastfed there may even be a small overall increase. When a mother becomes pregnant again before 12 months BMC actually continues to increase and tandem nursing mothers have no increased risk for osteoporosis. During pregnancy your body absorbs more calcium from the food you eat. If you feel your diet is low in calcium, then eating foods rich in calcium (eg leafy greens, nuts and seeds) may be a good idea but otherwise there's no need for any extra.
Morning sickness
Pregnant mothers often have nausea, whether breastfeeding or not, though breastfeeding while pregnant may make it worse. Eating frequent healthy snacks can help manage nausea, as can getting more rest. Some mothers find motion sickness wristbands work for them.
Milk supply and colostrum
Around the fourth or fifth month (sometimes before) your milk production is likely to reduce due to pregnancy hormones. The composition of your milk will also change and become more similar to weaning milk. Your child may nurse less or wean completely. Some children resume nursing at a later stage. The drop in milk production is due to hormonal changes and nursing more frequently or pumping won't increase production in the same way it does when you are not pregnant. Your baby may need age appropriate supplements and a baby under 12 months may need his weight monitored. Continuing to breastfeed during pregnancy has no effect on the milk supply that you will have following the birth of your new baby. Colostrum is produced during pregnancy whether or not it is being removed.
Managing when you are not enjoying it
You may experience nipple soreness, increased nausea and/or feelings of irritability caused by pregnancy hormones. Limiting nursing times, (eg to a few minutes or even a few sucks), ensuring a deep latch, distraction, and offering other snacks/liquids can all help to make nursing through pregnancy more manageable. Support from family and friends can help you get more rest.
Coping with questions and comments
Pregnancy and breastfeeding can be an emotionally challenging time. It can be difficult if you hear negative comments from others. Talking about the importance of breastfeeding to you and your child can sometimes help people appreciate that this is something you have carefully considered and that it is your choice for your family. Sharing information/research and surrounding yourself with supportive people can also help.  Your local LLL group will be a good source of support.
Deciding to wean
The decision to stop breastfeeding is a very personal one and one only you or your child will make. It is useful not to have too many expectations when you get pregnant.
Tandem feeding
Continuing to nurse your older child after your newborn arrives can help maintain and strengthen your special bond. Mothers often say that tandem feeding helps their older child to be more accepting of their newborn sibling and helps them through the emotional transition of having to now share their mum. Tandem feeding can also foster a special bond between the siblings.
It's a good idea to prepare your toddler/ child and talk about a new baby coming. Reading stories and showing pictures of babies nursing can help them to be more accepting when their sibling arrives.
The early days—what to expect
When you give birth your body will continue to produce colostrum, with milk becoming more plentiful around days 3–5. As with your previous baby, you will need to nurse 10–12 times per day to establish your milk production.  You may worry about your newborn getting enough colostrum if your older child is feeding too. Look out for feeding cues and give your baby unrestricted access to your breasts to help ensure he gets plenty of milk. The more milk is removed, the more will be produced.  Feeding cues to watch for include rapid eye movement, moving hands, squirming or rooting. Some mothers feed their newborn baby first or encourage the older sibling to nurse less if they feel their baby is not feeding enough. Good positioning and a deep attachment at the breast will help your newborn feed effectively. Encourage your baby to finish one breast before switching to the other.
Separately or together?
You may prefer nursing separately or breastfeed both nurslings together. Your older nursling can access your other breast in many creative ways!
It can take a while before your body adapts to the needs of two different nurslings. Sometimes you may feel lopsided if one breast has been drained more than the other. Eventually things will settle down and you'll have your own individual rhythm. Alternating breasts for each feed helps with development of newborn vision and keeps a balance in the size of your breasts. However, giving a toddler his 'own side' works for some people.
Fast flow
An abundant milk supply/forceful let-down can be challenging for your newborn. With each pregnancy your body makes more milk. Your older child might oblige and deal with the fast flow—otherwise express just a little milk into a towel until the flow eases to help your newborn. Avoid doing this too often as it may also increase production.
Nursing your older child can ease engorgement when your milk 'comes-in' and help protect milk production if your baby is not feeding effectively. Your older nursling may lose interest in solid foods for a while as he enjoys your newly increased milk production. He may also have looser stools.
Feelings
Tandem nursing mothers sometimes report they feel 'touched out' and have the urge to limit their toddler's nursing. The nipple sensation can be irritating and disturbing to some mothers. Offering distractions and reassurance to your older child can help you manage.
Looking after yourself
When tandem feeding, you may be constantly hungry and tired. It's important to look after yourself by taking every opportunity to rest together and by eating plenty of nutritious snacks and meals. Accept any offers of help with shopping, housework and cooking etc from family and friends. Taking a few moments to nurture yourself can help avoid feelings of stress or exhaustion.
Nighttimes
You may find it easier to adjust your sleeping arrangements so that your nurslings can be close at hand during the night. LLL has a variety of resources about sleep safety and creative ways to manage nighttime needs.
A time for weaning
For some mothers tandem nursing continues for quite a while. Others decide that weaning an older child and nurturing their relationship in a different way is better for everyone. If you decide to stop breastfeeding your older child keep in mind that it may be a gradual process and one which needs gentle encouragement and patience.
Our Further Reading section has information on weaning strategies. Talking to an LLL Leader can help you decide what is going to be best for your family.
When plans change:
Premature birth or complication
This can be a difficult and stressful time and there is often separation from an older child when the new baby is in hospital. Your newborn will need to take priority but trying to have your toddler for short visits where possible can help everyone. If your newborn is unable to nurse straight away your older child can continue and protect your milk production.
Written by Mhairi Kasapidis, Sue Upstone & mothers of La Leche League GB.
Further Reading
Birth & Breastfeeding
Is My Baby Getting Enough Milk?
Nipple Pain
Safe Sleep & the Breastfed Baby
Still Nursing?
Thinking of Weaning?
Toddlers and Food
When Mum Can't Be There
LLLI page on tandem nursing
Breastfeeding during pregnancy and tandem nursing: Is it safe? Recent research by Hilary Flower
Tandem Nursing – one mum's experience
References
The Womanly Art of Breastfeeding. LLLI, London: Pinter & Martin, 2010.
*Adventures in Tandem Nursing. Flower, H. Schaumburg, IL: LLLI, 2003.
Breastfeeding Answers Made Simple. Mohrbacher, N. Amarillo, TX: Hale Publishing, 2010.
How Weaning Happens, Bengson, D.Schaumburg, IL: LLLI, 1999. (link contains book review)
Mothering Your Nursing Toddler. Bumgarner, NJ. Schaumburg, IL: LLLI, 2000. (link contains book review)
Sweet Sleep Nighttime and Naptime Strategies fro the Breastfeeding Family. Wiessinger, D.et al. Pinter & Martin, 2014.
Prentice A. Maternal calcium metabolism and bone mineral status. Am J Clin Nutr 2000 May;71(5 Suppl):1312S-1312s
*Out of print but available on loan from many LLL group libraries.
This information is available to buy in printed form from the LLLGB Shop
Copyright LLLGB 2016