Weaning is the process whereby a child learns to take nourishment other than his mother's milk. It starts when the child is introduced to foods and drinks in addition to breastmilk, and ends when he finally stops nursing.
Introducing a baby to the exciting world of food alongside breastfeeding is covered in Starting Solid Food. Here we concentrate on situations when mothers plan to cut down or stop breastfeeding their babies or toddlers and we will be using the word 'weaning' to refer to this process. A baby is usually ready to start tasting solid foods at around six months old, but it's often some time before he is ready to eat substantial amounts. Until then, milk remains his main source of nutrition and calories.
Gradual weaning
Since it is normal for babies to continue to breastfeed into the second year or beyond, the weaning period may last months or years. Ending breastfeeding ab
ruptly can be physically and emotionally traumatic for both mother and baby and is best avoided when possible. Weaning gradually over a period of weeks or months allows breastfeeding to end in a comfortable way. Natural weaning, where mum and child end breastfeeding very gradually in a mutually acceptable way, is another option.
Breastmilk continues to be a valuable source of nutrition and immunity for as long as nursing continues. Nursing toddlers have fewer illnesses and breastfeeding promotes proper mouth development. Your own risk of developing breast cancer is lowered the longer you breastfeed. Nursing is a valuable mothering tool and many mothers find that it gives them and their toddlers immense comfort and closeness.
The World Health Organisation recommends that breastfeeding should continue for up to two years of age and beyond, with appropriate complementary foods from six months. So alongside introducing solid foods and a cup from about six months you can continue to breastfeed avoiding any need to give bottles or infant formula.
Partial weaning
Partial weaning may be an option if you are feeling overwhelmed by your child's need to breastfeed round the clock. Shortening the length of feeds or reducing their frequency may be enough to make you feel less overwhelmed. Some families find weaning their little one from night-feeds relieves the pressure—other families encourage their child to feed less during the day whilst meeting his need to nurse at night. You may have become used to thinking that nursing meets your baby's every need for attention. As a child grows he will crave your focused attention as well as your presence. Just joining in enthusiastically with his play may be enough to change the pattern.
Natural weaning
One thing is certain: all children eventually stop breastfeeding. They grow and change dramatically in the first few years of life, and their interest in nursing changes too. Children want to nurse only as long as it fulfils a need for them. A need that is satisfied goes away. Many mothers just continue to enjoy the closeness and connection of breastfeeding for as long as it is working well for them. Natural weaning allows their children to grow at their own pace, giving up breastfeeding according to their own timetable. This gradual process allows a mother's milk to diminish slowly and comfortably.
Returning to work
Breastfeeding can continue if you are returning to work. Some mothers express milk while at work for their baby to have next day—others simply continue nursing while at home. If you decide to wean before you return to work, first cut out those feeds that happen during working hours. If things don't go to plan and your child is still nursing once or twice a day when you return to work, breastfeeds will then be at times when you are available. Continuing to enjoy the closeness of nursing can make the periods of separation easier for both of you. It also means your child still gets antibodies through your milk for protection from any infections caught at nursery or when with the childminder.
Mixed feelings
It seems no sooner have you started breastfeeding than people will ask when you intend to stop! Coping with pressure to wean from circumstances outside your control or from outsiders is not
easy. However you will know in your heart what feels right for both of you and the decision is yours alone. You can continue to breastfeed for as long as you are both happy and enjoying breastfeeds. Take weaning as slowly as you wish. All mothers and babies are different. Children mature at varying rates and will wean at different ages. There are no rules on when is the 'right' time to finish breastfeeding— aim to finish when both you and your child feel good about it.
Pregnancy
Pregnant nursing mothers sometimes receive conflicting advice about whether to wean. Some continue to breastfeed during pregnancy and may go on to feed both children. This is called tandem nursing. Others wean or find their child weans naturally during the pregnancy. The booklet Breastfeeding Through Pregnancy and Beyond or the book Adventures in Tandem Nursing (2nd edition available through the LLLGB shop). may help when considering your options. Some mothers find that shortening feeds or partial weaning helps them meet both their needs and those of their older baby or toddler.
Love and attention
Weaning will not remove your child's need for you or necessarily make you less tired. Nor will weaning from night feeds guarantee that your child will sleep from dusk till dawn. Older babies and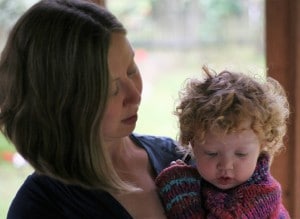 toddlers still wake for a number of reasons—hunger, thirst, discomfort, pain, bad dreams or teething. Your child will need your attention and care for years yet. Providing other kinds of attention can sometimes be more tiring than simply nursing! Ending breastfeeding before your baby or toddler is ready to stop involves effort on your part. You'll need to offer substitutes and distractions in the form of food and attention. Substituting lots of this 'other-mothering' can help your child come through the weaning process with his confidence and trust in you intact. If you are tired or overwhelmed, taking things slowly may be easier for both of you
Older babies and toddlers
You are in the best position to know what sorts of attention will be the most acceptable substitute for nursing for your child. It can take a little trial and error to work out the best options for your child and some may work better than others at different times of the day.
Don't offer, don't refuse is a simple technique to help when weaning from the breast.
Change daily routines so your child is not reminded about nursing—avoid sitting in your usual nursing chair; get up promptly for breakfast; introduce a bed-time routine that includes a sleep
cue, such as a music CD or story which can continue when breastfeeding has stopped.
Enlist your partner's help or that of another adult in giving your child breakfast or settling him to sleep.
Offer a snack just before you expect your child to nurse, so as to increase the length of time between feeds and/or shorten a feed. Sit together and have a drink and a snack yourself. This can emphasise the pleasure of sharing food and is a way of giving attention to compensate for the closeness of breastfeeding.
Suggest an interesting activity to distract a child from nursing: visit the park or a friend; cook together; involve him in helping you with your work. Give your child your full attention and save phone calls, emails and your own activities for later.
Stay at home and keep things calm to help a child who asks to nurse when he is overwhelmed.
Postponement can be an effective weaning method for helping wean older children who can cope with waiting, but note that it can make some children all the more determined to nurse.
Shorter feeds may work for older children and can be combined with substitution and distraction. You could follow a short nursing with a snack and drink. Some mothers count or sing a nursery rhyme to limit the length of a feed.
Bottles or cups
Whether you choose to use a bottle, an open cup or a spouted beaker to replace breastfeeds will depend on your individual circumstances. Introduce bottles only if your baby seems to need the
comfort of sucking from one. An older baby or toddler may like to drink from an open cup so that bottles are unnecessary. Unmodified cows' milk is unsuitable as a main drink for babies under a year old so if you decide to stop breastfeeding before 12 months ask your health visitor what to give instead of breastmilk. A baby tends to drink larger amounts at each feed from a bottle than from the breast so he may need fewer bottles per day than his usual number of breastfeeds. He'll miss the close contact and comfort that nursing provides so double up on cuddling and carrying to make up for it.
How quickly?
Building plenty of time into your weaning strategy will allow you to try different approaches and decide what works best for you both. It will enable you to slow down the pace if your baby is ill or teething, or when life is hectic. For your own comfort the younger your baby the slower you may need to wean.
If you are actively working towards stopping breastfeeding, cut out one feed per day, no more often than every two or three days. This will allow your milk production to decrease slowly avoiding uncomfortable fullness and reducing your risk of becoming engorged or developing mastitis.
If your breasts feel uncomfortably full or painful, take action to relieve engorgement—it's easiest to just breastfeed. Even a short feed or hand expressing a small amount of milk can make a difference. See Engorged Breasts—avoiding and treating for more suggestions. By keeping the process flexible and taking things at a steady pace you'll stay comfortable and your child can gradually become accustomed to substitutes for breastfeeding, for comfort sucking and at sleep-times.
Naptime and sleep
Naptime and bedtime breastfeeds are often the last to go and can seem the hardest to end, because they are often a cue for sleep. Some mothers continue with these, even when daytime weaning is complete. La Leche League does not advocate sleep-training techniques in which babies or children are left to cry for long periods. These methods for training young babies to fall asleep alone can be distressing for all involved and may be psychologically damaging. A well-attached child likes to know someone who loves him is close by when he goes to sleep. Develop a simple bedtime routine so your little one knows what to expect. At first it can include nursing—later you can substitute other sleep cues such as a back rub, songs, stories and kisses. Children love bedtime ritual and it helps to keep the routine consistent by using the same sequence of cues whenever you settle your young child to sleep—day and night. Adults, too, like bedtime routines!
Ideas for night weaning
• A bedtime story and cuddle with a drink and snack can replace the closeness of breastfeeding.
• Once your child is sleepy, he may be able to fall asleep with a cuddle, or while you are gently patting or stroking his back. This way you can help him learn to fall asleep without your nipple in his
mouth. You may need to be gently persistent.
• Cuddles in another pair of loving arms can replace nursing at night, if you have another supportive adult available.
• Offer a drink and possibly a midnight snack if he wakes and seems thirsty or hungry. Leave a drink and a snack ready for early risers.
• Delaying or shortening feeds in the night works for some families. If you find your child is insistent on nursing why not just nurse him briefly—until he settles? Or offer other comforting until a certain time, say 3 am, then breastfeed as needed after that to ensure that everyone gets some rest.
• An older toddler may be able to make an agreement with you not to ask to nurse until it is light outside.
Babies and toddlers often go back to sleep more easily if they receive attention before they are fully awake. Sleeping close by your toddler may make night waking less of an issue as you can lie down and rest while he settles. Alternatively, some families find their little ones are reminded less of nursing if mum and the breast aren't too easily available.
Time and patience
Sometimes new habits are very quickly established, at other times this takes longer, but being aware of your child's feelings and meeting his needs should help weaning go smoothly and pleasantly for you both. Going at your child's pace helps prevent this becoming a battle.
Take a break
If weaning isn't going well—perhaps because your baby isn't developmentally ready, or because he is teething or unwell—you may find that having a break from it for a few days, or even a week or so makes a difference. Taking this time to recharge gives you more energy to continue. A week can make a lot of difference to a baby's development and weaning may subsequently become easier. Babies and children need more emotional security at times of developmental change. Stepping back like this takes courage, but it can give you time to consider how to end breastfeeding in a way which suits you both. What may initially seem impossible could soon alter dramatically because babies constantly grow and change. The longer you can allow for your child to adjust to weaning, the easier it will be for him.
Looking after yourself
If you can, reduce unnecessary outside commitments and limit activity to essentials if you are trying to stop breastfeeding. You can then give your child the focused attention he will need and also have time to rest or sleep during the day. A break or rest can be just as important for you as your baby grows as when he was a newborn— particularly if he is very active.

Could you…
• Lie down with your baby to sleep in the day? Sometimes extra closeness helps with weaning.
• Use outside help if there is someone your toddler feels comfortable spending time with?
• Arrange a quiet time, with quiet activities in a safe room? You may be able to cuddle while you rest, even if you cannot sleep. Even when an older child no longer sleeps during the day, maintaining the ritual of a 'quiet time' after lunch or a rest for both of you helps pace the day.
• Go for a walk with your child in the buggy, or for a drive in the car? If he is lulled by the movement and the view, you then have time to recharge your mental batteries.
• Get to bed a little earlier so as to have a longer period of uninterrupted sleep?
When a child isn't ready to wean
It isn't easy when you are ready to stop and your baby is not. Breastfeeding can easily become a struggle and you can end up feeling frustrated and resentful. A baby's fussiness or demands for attention usually increase, at least temporarily, when a major change such as weaning takes place. Your child's behaviour will let you know if weaning is moving too quickly. Increased tantrums, crying, regressive behaviours, anxiety, thumb sucking, increased night waking, new fears of separation and clinginess are possible signs that weaning is moving too fast for your child. If your child is so desperate to nurse that you can't distract or comfort him, slow down or change your weaning tactics to ones that suit him better, or perhaps wait a while before trying again. Children over two years old may be more flexible and open to negotiation about their need to nurse so weaning may often be accomplished more easily by waiting until this point.
An increased need for closeness
As your child weans he will have a continued, perhaps even stronger, need for closeness with you. In fact, some mothers have success with weaning older children by offering to nurse at every opportunity. Once a child realises his mother is willing to let him breastfeed whenever he wants, he may simply abandon the need. Plan plenty of 'special time' with your child. Meeting his general need for closeness may help him feel more secure, so reducing his need for nursing.
Comments from others
Your biggest challenge may be coping with opinions of others on how long you should continue to
  breastfeed and how weaning should happen.
Because of this you may start feeling uncomfortable about nursing your older toddler in front of others. Some mothers set limits on where and when they nurse, or offer distractions at times when it's inconvenient. Selecting your clothing carefully can help avoid accidental overexposure and choosing a codeword for breastfeeding such as 'num-nums' makes it less obvious when your child asks to nurse when out and about.
Finding support
The decision to wean is a very personal one. Your feelings about nursing are important—more important than any advice from others. Many new mothers cannot envisage nursing a baby beyond
six months, let alone a year. But perceptions often change as the breastfeeding relationship grows and develops, and many a mother nurses her baby for longer than initially intended. A La Leche League Leader will always be willing to help you tailor weaning to suit your needs and those of your child, so that your progress towards total weaning becomes more enjoyable. If you are interested in finding out how different weaning methods are put into practice you may like to attend your local LLL group
Written by Sue Upstone, Karen Butler and mothers of LLLGB
Further Reading
Mastitis
Engorged breasts – avoiding and treating
Pregnant and Breastfeeding?
Starting Solid Food
Still Nursing?
Working and Breastfeeding

Books
The Womanly Art of Breastfeeding, Eighth edition. Pinter & Martin, 2010.
How Weaning Happens, Bengson, D. Schaumburg, IL: LLLI, 1999.
Sweet Sleep: Nighttime and naptime strategies for the breastfeeding family. Pinter & Martin, London,
Adventures in Tandem Nursing, Second edition. Flower, H, 2019.
Mothering Your Nursing Toddler, Bumgarner, NJ. Schaumburg, IL: LLLI, 1999.

This information is available to buy in printed form from the LLLGB Shop.
Copyright LLLGB 2016